Related products
Product detailed description
This is a must-have product for homemade drying. We've been producing this mix of spices since 2011. We found inspiration traveling in South Africa and are proud to say that you won't find anything like this on the local market.
Ingredients
salt (max 30%) pepper coriander garlic
Use 20-25 grams of our basic spices per kilo of meat. (If you're going to dry biltong, don't forget the Apple Cider Vinegar.)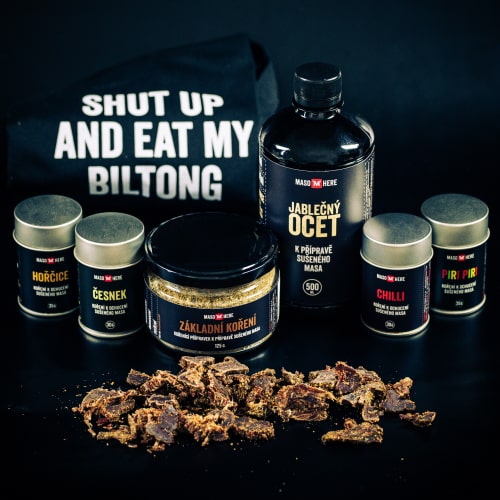 Become a true biltong master
There is a precise procedure for making biltong. Everyone can adapt the recipe to their taste, but we'll help you get the basics under your skin in the beginning, so you can become a biltong master as quickly as possible. So in the beginning just remember:
do not add any additional salt, it is already included in our base.
don't try replacing apple cider vinegar with wine vinegar
fatty meat is not always bad, in the case of biltong, fat is a flavour enhancer
a proper biltong is dried for a very long time and always whole
Homemade drying step by step
We're here to help your dried meat process in any way possible. Below is our step-by-step guide for creating dried meat at home and we think you'll produce great results with it!
Step 1: Slicing
First of all cleanse the meat. Remove all tendons and binders. Slice the meat into small and thin pieces. If you have a larger drier, you can slice your meat to bigger pieces.
Step 2: Seasoning
You must season the meat before you begin the marinating process. For this you can use our Biltong Basic Spice. Use 20 grams of our spice per 1 kilogram of meat. Stir it well in a large bowl with the meat.
Step 3: Marinating
Put the seasoned meat into the box and pour our Apple Vinegar on top of it. Close the box and let the meat marinate for 12 hours at minimum. Turn the box upside down after couple of hours for better marination. Vinegar is great preservative which will release all the threads. After the drying process is finished, the meat won´t be too hard.
Step 4: Flavoring
Take the marinated meat out of the box. Let the vinegar disappear and then put the meat in the bowl. If you don´t want flavored meat, skip this step. But if you want to have meat with some flavor, add our spice (Chilli, Mustard, Piri-Piri, Garlic). Use 6 - 8 grams of spice per 1 kilogram of fresh meat. You can alter this ratio to meat your taste. Mix the spice equally and then put the meat into the drier.
Step 5: Drying
If you use a fruit dryer, spread the meat on the plates so they don't touch each other. If you use an oven, you can hang the meat on hooks. Be sure to put a metal sheet underneath to catch any dripping vinegar. If you have a drier with bad air flow, rearrange the meat after couple of hours so that the meat is equally dried.
The meat is dried at a low temperature. We want to dry it, not roast it. If you like the meat more tender, you can take it out of the drier after 6-8 hours. After drying, take the meat out and let it rest for a couple of hours.
Step 6: Packaging
If you're drying larger portions of meat that you don't plan to eat within a few days, this step is crucial to properly preserving your final product.The best solution is to pack it in an impermeable bag. If you don't have that option, a classic oxygen absorber is a good solution too.
Don't know how to start? We'll give you a recipe!
Read our recipes, where we clearly tell and show you how to dry jerky, biltong and other meat products you know from our shop.
Additional parameters
Category

:

Spices
Flavor

:

Original
Package

:

125g
Origin

:

India
Be the first who will post an article to this item!
Be the first who will post an article to this item!
Maso Here was born with the aim to revolutionize the cured meat industry and completely redefine the Czech jerky and biltong culture. Our passion for biltong production and dedication to providing the very best shopping experience is what keeps every one of our customers satisfied. Shop with us and see why so many people keep coming back for more.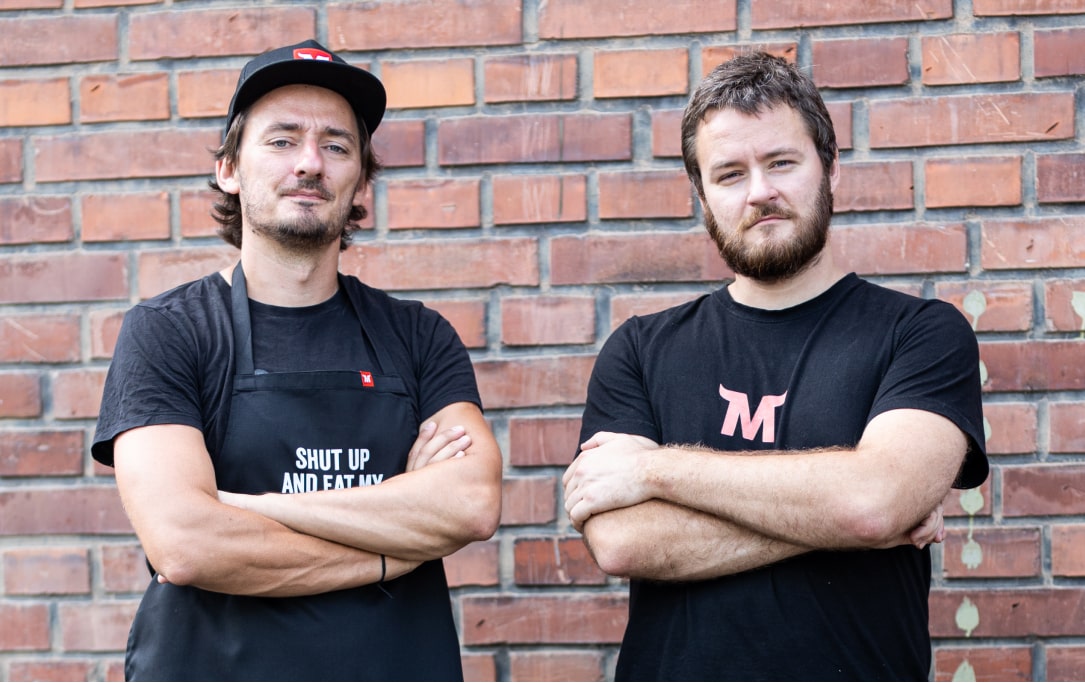 Meet the brothers
In 2011, Jakub and Ondrej started the company Maso Here with a mission to make other people as passionate about great cured meat as they were. For the last 10 years, they've woken up every day and dedicated themselves to perfecting the art of making the best and most authentic biltong and promoting themselves as "Czech dried meat pioneers."
We have the widest selection of gourmet biltong and jerky for every budget and taste preference. We are famous for our endless selection of craft meat snacks and everything that you may need for your home-made biltong and jerky! You aren't going to find a one-stop-shop like this anywhere else. Whether you are looking for a meat snack for yourself or a gift for a loved one, Masohere.com has everything you could ever need in the cured meats department.
Core Values
Our mission is simple: make the best tasting product, using only the highest quality ingredients.
Real ingredients
Real, simple ingredients that are easy to understand and pronounce. That's why you'll never see preservatives, nitrates, nitrites, or msg in our ingredients.
Handcrafted from start to finish
Our products are handcrafted in small batches right here in the Czech Republic. We only use prime cuts of beef responsibly sourced from certified Czech farms. High-quality animal welfare produces the highest quality meat and without that we wouldn't be able to make our biltong.
We believe in community
We care about great meat snacks and incredible people - our customers.