Renjer - Red Deer Jerky Lime & Chilli 25g
Related products
Product detailed description
Do you know that frustrating feeling when you buy a product that is advertised to be spicy, but after taking your first bite, the disappointment kicks in? Nothing, simply nothing even close to a burning feeling in your mouth. We at RENJER have decided that we will not let that happen to you – after all we couldn't bear to see our customers disappointed! Therefore, we have created our new modern RENJER taste of Red Deer Jerky Chili & Lime. In general, from the start red deer kept selling less than its exotic brothers reindeer and elk – but believe us, that is about to change with a bang.
Ingredients
Red deer meat (90,3 %), sea salt, white wine vinegar, dextrose, stabilizer (citrus pectin), spice mix, chilli (1,5 %), lime aroma (0,8 %)
Nutrition facts
Serving Size - 100 g

Energy (kJ/kcal)

1111/265

Fat
3,2 g
whereof saturated fat
1,4 g
Carbohydrates
2 g
of which sugar
1,8 g
Protein
56,5 g
Salt
4 g
Additional parameters
Category

:

Jerky
Origin

:

Sweden
Meat Type

:

Deer
Flavor

:

Lime & Chilli
Package

:

25 g
Heat Scale

:

Hot
Be the first who will post an article to this item!
Be the first who will post an article to this item!
A few years back the father of our co-founder Tim had a business in Arjeplog in northern Sweden. It was a German bakery with traditional German bread and pastries and at least once a month he flew up to Sweden to check on the business. On one of these trips during winter time, Tim joined him and had some fantastic days including a ride on a snowmobile and on a dog sledge, going ice fishing and a night in a typical tipi tent around a bonfire. During this night it was also the first time he tried dried reindeer meat, a taste experience that was unforgettable for him ever since.
Some years later, when he came to Lund to study Entrepreneurship, Tim initially thought he would end up in a team developing an application or a website, as most entrepreneurs do nowadays. When he had to come up with a list of business ideas, a phone call with his father reminded him of the time in that tent in Arjeplog and of the fantastic dried reindeer. Without taking this idea too serious however, he put it on his list and a few days later pitched it to his peers in class. Right afterwards, Anton and Alex approached him, since they found this idea interesting, even though it seemed a bit quirky at first. The three of them made a few experiments with reindeer meat and soon decided that reindeer jerky is a unique product and so delicious that it should not be kept from the market. And so the story of Renjer began…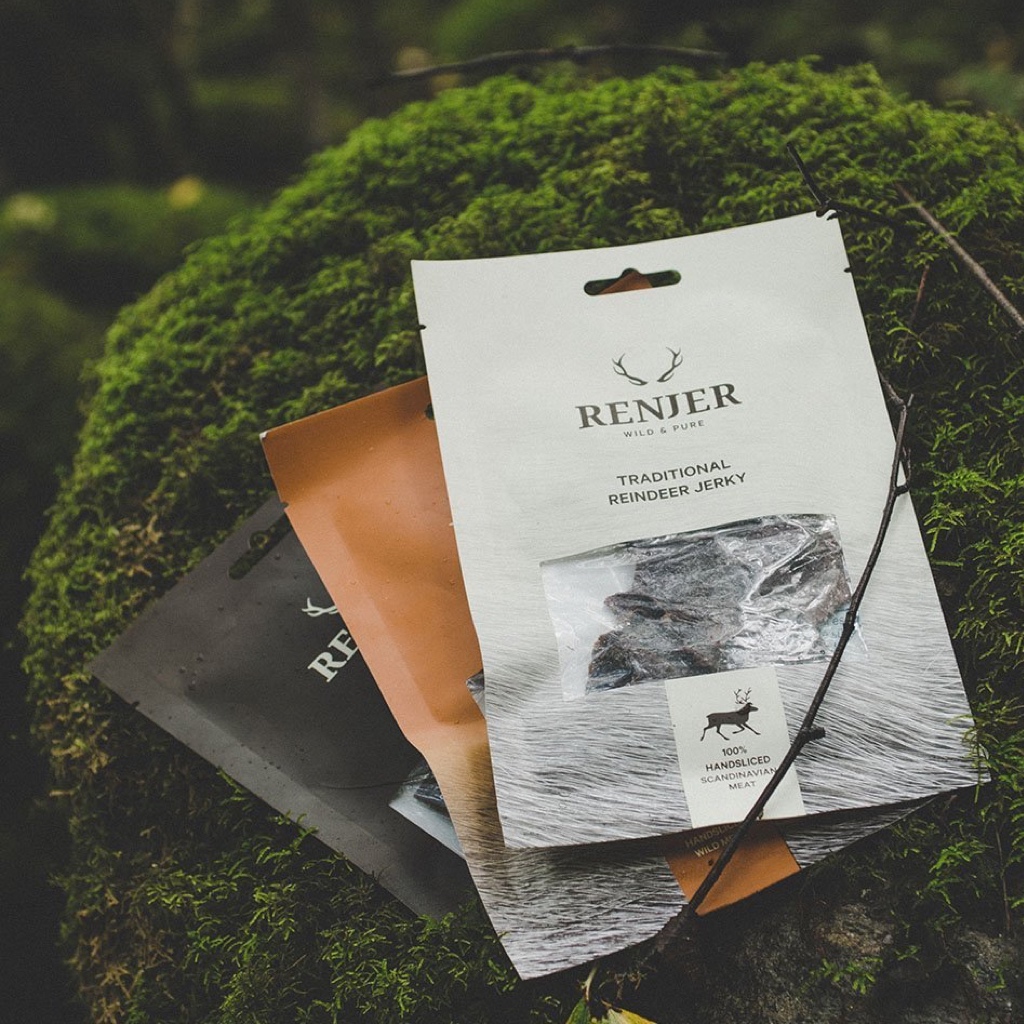 Sustainable game meat
Renjer is only produced of high quality game meat from Northern Europe, which means that the eco-footprint is ten times below beef jerky. Moreover, the species-appropriate life of wild animals is a clear signal against mass-produced meat.
Healthy nutrition
Wild meat is packed with healthy nutrients due to the natural diet of wild animals. Our jerky is high in protein, but has very low fat content and carbohydrate content.
Natural ingredients
We use only whole meat bits and aim to keep the wild taste of our meats by seasoning them only slightly.
Carefully handcrafted
Every piece of our products is handsliced and carefully dried to guarantee the maximum taste experience.