Rustic Jerky - Habanero & Lime 50g
Related products
Product detailed description
Our gourmet Jerky is completely natural – no artificial flavourings or preservatives. Designed for eating, not for sitting on shelves for years. What you get is a perfectly handcrafted, artisanal, high Protein, low Carb, low Fat snack. Perfect for anyone needing a top quality energy source throughout the day or night. Containing all the good stuff like Omega 3's,the blood building B-12, the feel good chemical Niacin, & the muscle building Creatine. Build your health whilst enjoying the taste.
Ingredients
Beef 70,6%, water, soya sauce (soya beans, table salt, water, spirit vinegar), Worchester sauce (Water, spirit vinegar, sugar, table salt, powidl (plums, apples, acidity regulator: citric acid), blend of spices, dried tomato paste, flavours, chilli extract, garlic extract), lime jiuce 2,9%, dried ginger 0,9%, dried Habaneros 0,6%, dried coriander, chilli, spices, spring onions, pimento
Shelf life about 9 months in room temperature. Best before date located on bottom of the bag.
Nutrition facts
Serving Size - 100 g

Energy (kJ/kcal)
1282/303
Fat
5,7 g
whereof saturated fat
2,3 g
Carbohydrates
7,2 g
of which sugar
3,1 g
Protein
56 g
Salt
6,26 g
Additional parameters
Category

:

Jerky
Origin

:

Czech Republic
Meat Type

:

Beef
Flavour

:

Chilli, Lime
Package

:

50g
Heat Scale

:

Medium Hot
Be the first who will post an article to this item!
Be the first who will post an article to this item!
Go Natural, Go Rustic! We take great care when choosing the perfect ingredients for our jerky. We don't settle for anything less than perfect for you. The finest top round cut from selected beef, the purest honey, exotic smoked Bhut Jolokia chili pepper & soothing anti-inflammatories such as ginger. Natural gourmet SuperFood - as nature intended.
Rustic Jerky stands above the rest. Unlike other jerkys, which are often low quality, sodium and preservative packed guilty pleasures, our jerky is a healthy snack. Low Fat, Low Carb & High Protein Packed with goodness. Rustic Jerky makes you feel great about what you are eating & does the right thing for your body. We know you'll love it as much as we do.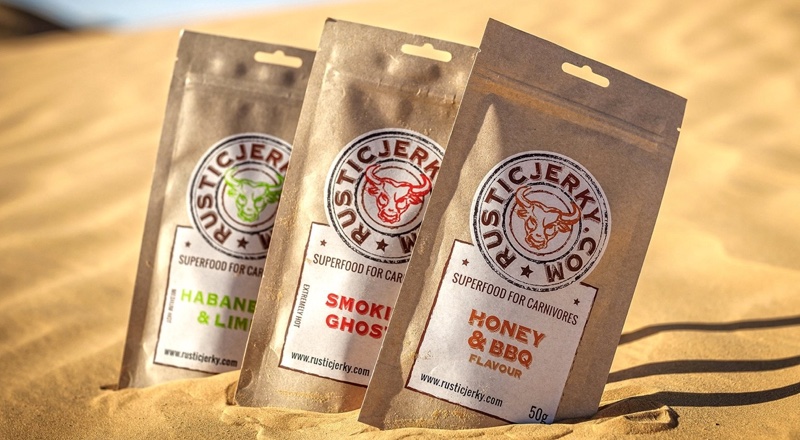 The hottest jerky in Europe?

The perfect SuperFood for Carnivores
The 21st century has brought a health revolution. It is a time of reflection on our wellbeing. Diets, healthy living & how we fuel our body now takes a priority in our everyday life. With emphasis put on low fat, low carb diets, jerky is a natural choice for the health conscious meat eater.
Fit & active people know the value of putting healthy protein into their bodies. However, many protein shakes & bars beloved by the fitness community use artifical & harmful ingredients such as Aspartame. This is not healthy protein. Rustic Jerky is!
Nutritionists agree that 20g of protein per meal or snack is ideal for maintaining & promoting muscle growth. This is the minimum provided per 50g pack of our amazing beef snack. This is what Rustic Jerky does..