Gloucester Biltong started out as nothing more than a passionate hobby. For the past 10 years, Paul has made Biltong for his friends, family and work colleagues from his home in Gloucester. After enough pressure for more and more of his delicious Biltong, Paul partnered with friend Craig and finally took the plunge into full-time Biltong making.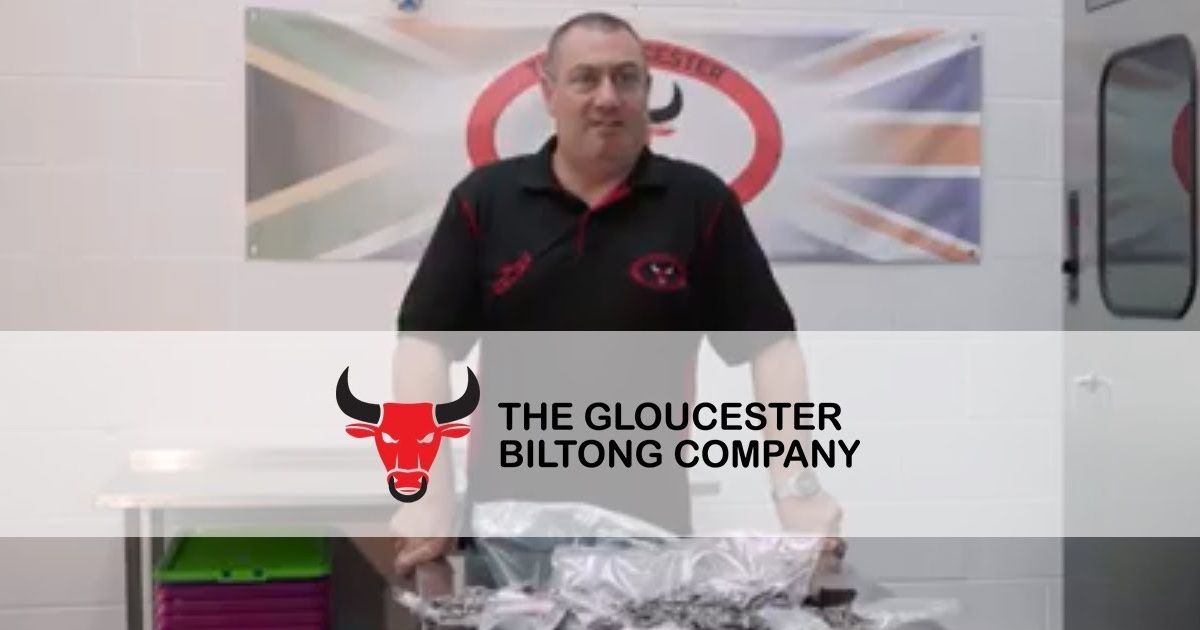 In January 2015, both Paul and Craig imported two of the best commercial Biltong dryers money could buy from South Africa. Premises in Gloucester soon followed, which needed extensive refurbishment to house the Biltong production. The premises now boasts a trade counter, back office and fully-equipped production room.
In late February 2015, Paul and Craig met with Ben Creese Country Butchers in Staunton, and were so impressed with the quality of meat that they immediately partnered with them as their main supplier of Silverside steaks – which are now used to make the delicious Biltong.
The doors finally opened in March 2015, branded with the now recognisable red bull with black horns. Three months later Gloucester Biltong were awarded a Health Mark by Tewkesbury Borough Council which now means their products can be sold all over the UK and Europe. The Gloucester Biltong Company is quickly becoming a local household name, and has received a great reception from customers, who rate their products among the best in the UK – and to the South Africans, a real reminder of home.
The process
Throughout the ages, many different marinades have been lovingly concocted for slices of beef or venison to draw their own brine for various periods of time, and then hung out to dry – with the proud creators each taking claim to the ultimate taste sensation in perfect Biltong!
The truth of the matter is that Biltong, as with any food, is subject to personal taste, which varies from person to person. Some like it wet and fatty, others dry and lean; some prefer it well peppered with lots of coriander and other spices, while others prefer it with a more delicate and traditional taste.
Making high quality Biltong and Droewors requires some know-how; the process requires time and precision as it's far too easy to end up with spoilt meat instead of delicious Biltong or Droewors. That said, here are the four basic steps we take to produce our famous products.
Step 1 - Meat Selection
Gloucester Biltong Meat DeliveryThere is a long list of meats that could be successfully transformed into biltong, but for the most part we suggest using beef as this will suit most tastes. As far as we are concerned, Silverside beef steaks from our friends at Ben Creese butchers in Staunton tick all the right boxes!
We order our fresh Silverside beef in bulk; we do this because the meat loses most of its mass during the drying process, typically by more than half.
Step 2 - Preparation
Gloucester Biltong DryersWe start by removing any excess fat as this will help with the drying process and ensure greater longevity of the final product. We always leave some fat on however, for extra flavour!
Once the meat has been trimmed, it's time to marinade. We take our blend of traditional South African herbs and spices and baste the meat thoroughly. Depending on the type of Biltong we are making, we might add additional spices to the marinade. We would love to tell you what we put in our marinades, but then we would have to kill you.
We then leave the steaks in the fridge to marinade for 12 to 16 hours before proceeding to the drying stage.
Step 3 - Drying
Fresh Gloucester Biltong Good to GoYou can dry biltong in an isolated, dry space or a specially constructed chamber like we use which allows us to control the heat. Humidity is the enemy and the primary cause of spoilt meat, so creating the right environment for drying is an essential part of the process and the most complex, especially in colder climates. There is nothing worse than creating the perfect marinade for the highest quality beef, then hanging it to dry, only to come back and find you don't have any Biltong, but spoilt meat instead!
Depending on the amount of meat, and the method of drying we use, it can take anything from 48 hours to 4 days to complete the process. Once ready, we slice and package our delicious Biltong ready for our customers.